February 9th, 1967 - Philadelphia Gets NHL Expansion Team
The following articles where printed in the Canadian newspaper "Globe and Mail" during the time period when the NHL announced expansion - which included a team in Philadelphia, which would become the Flyers. The first article was printed just before the official announcement. Little mention was given to the Philadelphia bid which shows just how surprising it was that Philadelphia got named as one of the successful bids. The last two articles articles outline the successful bids. Although not much focus was given to the Philadelphia bid in the second last article, it will still hopefully provide some interesting reading.
San Francisco, Baltimore Favored for NHL Berths


February 9, 1966
By Dick Beddoes - Globe and Mail Reporter

NEW YORK - Governors of the National Hockey League, groggy from two days of having their ears bent by 13 applicants from eight locations, will decide today whether any new franchises will be awarded at this time.

There are indications that two territories, Baltimore and San Francisco-Oakland will be granted admission immediately.

David Molson, president of the Montreal Canadiens said, "I'll be disappointed if we don't announce two and I'd like to see us choose all six."

Expansion from six to 12 teams is projected toward two six-team divisions in time for the 1967-68 season.

Stafford Smythe, speaking for the Toronto Maple Leafs, supported Molson's stance. "San Francisco and Baltimore are both dealing from strength since each city has only one applicant. The Baltimore people particularly are the sort we like for partners."

The Baltimore applicants are Zanyl Krieger and Jake Embry, 90 percent owners of the Baltimore Clippers in the American Hockey League. Krieger, a lawyer, is a majority stockholder in Baltimore Orioles of the American Baseball League, and once shared ownership of the Baltimore Colts of the National Football League.

"How can they resist our bid?" Embry demanded yesterday.

At least one influential voice in the NHL conclaves can resist intruders and wishes expansion had never been contemplated. Jim Norris, burly co-owner of Chicago Black Hawks in grumbling.

"We can't make a nickel by expanding," Norris said. "So the new guys cough up $2,000,000 for a franchise and players. How much will we see of that after taxes?"

Norris knocked down the notion that a golden stream of television dollars will be diverted into the governor's pockets. "The Hawks already get $200,000 for televising 35 away games, and how much more can we expect?"

Toronto and Montreal among present NHL teams expect and receive TV revenue that makes old King Midas resemble a piker panhandling for dimes. The Leafs anticipate $9,000,000 from their electronic package in the next six years.

NHL President Clarence Campbell cautioned: "The expansion formula is not based on a TV contract, but naturally we hope something can be worked out in that area."

Baseball and football at the big league level have fattened on TV dollars to the point where outlandish bonuses of $600,00 are given upon unproven college halfbacks. Six weeks ago the NFL signed the richest sports contract in television with Columbia Broadcasting System - $37.6 million for the next two years. CNS has the option to renew for a third year at $18.8 million.

But no major network has made an overture to televise hockey. NBC is committed to the American Football League for four more years and ABC is saddled with a commitment to the NBA.

Hockey, unlike football, is a night game and thus would conflict with what the US networks would consider prime-time programs. Since there is some hesitancy, notably by Norris, Campbell was asked why the NHL considered expansion at all.

"We need a broader North American image," the president said. "Look at the map of the continent and you see the NHL is a not very extensive group - we're in a small area. Hockey needs a broader base, and this should be started from the top, which we are."

He compared hockey to football and baseball. "The football war between the AFL and NFL is shortsighted. The NFL wouldn't have gotten into this battle if it had granted some franchises to some of the people who eventually started the AFL. Our philosophy is to take people in, lest we wind up having to fight them."

The major fight for the NHL franchises is in Los Angeles, five groups scrambling for the one spot expected to be awarded to Southern California. Jack Kent Cooke made a particularly long, brash, freewheeling plea. He promised to build his own arena if his bid succeeds, a 16,000-seat hall "for hockey first, basketball second."

Cooke recently purchased the Los Angeles Lakers of the National Basketball Association for a reported $5,175,000, but confessed "hockey is my first love." It was a judicious confession, considering the NHL is suspicious of any entertainment such as basketball that directly competes with hockey during the winter.

Smythe insists Cooke's aggressive tactics would not deter the NHL from blessing the former Toronto publisher, broadcaster and baseball promoter.

"If Cooke delivers the building, he's the kind we'd support. We want partners who can control their own rink so they can set their own hockey schedule. But three or four of the LA groups sound impressive to me."

Proprietors of the minor league Los Angeles Blades - Jim Piggot, Dan Reeves, Dan Martin and Bob Reynolds - are considered Cooke's major rivals. The Los Angeles Coliseum commission supports their bid on the compassionate grounds that the Blades have lost $500,000 in the past five years, 20 per cent of that in rent to the commission-controlled Sports Arena.

Piggot, a heavy construction mogul from Saskatchewan, moved the Blades from Victoria to Los Angeles fives years ago. Reeves, his principal ally, own the Los Angeles Rams, the NFL's counterpart to the Toronto Argonauts.

Martin is a former U.S. Undersecretary of Commerce and Reynolds presides over Gene Autry's California Angeles of the American League. Reynolds, an old tackle claims to have played 60 minutes in three successive Rose Bowls for Stanford in the Thirties.

Piggott deflected gossip that the Blades will sue if the NHL rejects their bid. "We feel that we deserve consideration because we're the hockey people out there," he said. "We wouldn't talk about legal action until we're turned down."

Piggott's partners are also connected with football and the NHL may consider this a conflict of interest. Reeves ducked having his picture taken with the Blades representatives because he whispered "I'm pretty well identified with football you know."

Ralph Wilson, a trucking and insurance millionaire from Detroit promised to move to Los Angeles if the NHL certifies his application. He owns the Buffalo Bills, champions of the AFL.

"I'm on the AFL expansion committee," Wilson told the governors, "and I know what you're seeking : One man who can make decisions, I'm that kind of man."

George Eby made a fourth Los Angeles pitch, this one for Metromedia, a national television chain which also operates the Ice Capades. "They'd also be all right," Smythe admitted. "They know about ice, arenas and TV."

Least impressive of the Los Angeles hopefuls was Tony Owen, a television producer. The governors would have exhibited greater warmth if they had been listening to Owen's wife, actress Donna Reed.

Yesterday the governors also considered representatives from Philadelphia, Minnesota-St.Paul, Pittsburgh and Vancouver.

Bill Putnam, a young investment counselor from New York, spoke for Jerome Schiff, a contractor and Jerry Wolman, owner of the NFL's Philadelphia Eagles. "We don't have a rink," Putnam said, "but we'll build one with private capital, if we get a franchise."

The Minnesota-St.Paul application is considered attractive but the applicants could not guarantee that a civic referendum will vote funds required for a suitable arena.

Jack McGregor, a Pennsylvania State senator represented 31 investors, among them Art Rooney, owner of the NFL's Pittsburgh Steelers. If Pittsburgh is granted a franchise, this group will likely be favored ahead of John Gleason, a retired army general, now in banking in Chicago.

Vancouver's submission, made by Syrups McAllen and Foster Hewitt, did not enchant the governors. "Too many 10 per centers," Smythe said. "They've got 10 guys with little bits of the action, instead of one or two guys who can make the decisions. I'm flabbergasted that the presentation could have been so stupid in having its strength spread through 10 or more people."

Smythe repeated an earlier contention: "I don't think Vancouver will get NHL hockey for a generation and I've thought this since the city turned down the Leafs' offer to build an arena out there if the city would give us the land."

He added: "Besides, Vancouver is the smallest of all the areas we're considering. We can't get any more TV customers out there because we've got them all now with our Saturday night telecasts."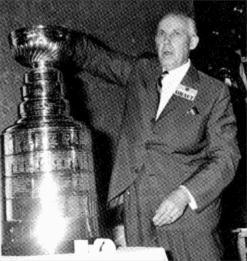 NHL President Clarence Campbell determines drafting order for the 1967 Expansion Draft
NHL Grows to 12 Teams; Vancouver out; Cooke, Crosby Head West Coast Groups

February 10, 1966
By Dick Beddoes - Globe and Mail Reporter

NEW YORK - National Hockey League governors, in their boldest move in 40 years, yesterday awards six conditional franchises, all localities in the United States.

The six - Los Angeles, San Francisco-Oakland, St.Louis, Minneapolis-St.Paul, Philadelphia and Pittsburgh become the NHL's second section in the 1967-68 season.

They join Chicago, Detroit, Boston, New York, Toronto and Montreal, cities that have formed a tight cozy island since 1941. New York Americans abandoned the NHL that year and were not reactivated.

Vancouver's bid to become the third Canadian city in the big league was rejected because the presentation by Cyrus McLean and Foster Hewitt did not impress the governors. It was considered the least impressive plea of the 13 heard from eight territories.

David Molson, representing Montreal Canadiens said, "I wanted Vancouver in for national reasons, but I could not in all honesty recommend the city to my NHL partners after Mr.McLean's presentation. It was hopeless. They'd had a year to prepare out there, but the preparation was inadequate. Among other things, they did not convince us they have the knowledge to operate a professional sports organization."

Rejection of Vancouver certified Stafford Smythe's voluble scoffing of the British Columbia applicants. "Montreal and us use to be two battling against four Americans," the Toronto governor said. "Now we're two against 10, but there are too many 10 percenters in the Vancouver group to warrant supporting them."

St.Louis was not represented at the meetings, but the governors admitted the territory as an accommodation to Jim Norris, co-owner of the Chicago Black Hawks.

Norris owns the old St.Louis Arena, capacity 14,200, but wants to peddle it. His chances of selling would be killed, he reckons, is the prospective buyer did not have an NHL franchise.

"Norris guaranteed he has four potential buyers who would be acceptable to us," Smythe said. "He has 60 days to come up with someone we'll approve."

A 16-man group headed by Stan Musial, former baseball star and Garagnani (Gary) Biggie, a restaurant proprietor, intends to apply for the St.Louis franchise. Musial is also in the restaurant business and is an advisor to the U.S. Government on physical fitness.

If no suitable St.Louis applicant appears before April 5, Baltimore will be awarded the sixth franchise. Buffalo, like Vancouver, was rejected as a possibility for the spare board.

The wealthy Knox brothers, heirs to the F.W. Woolworth fortune, argued impressively on behalf of Buffalo, but were beaten because of their proximity to Toronto.

"I'd have voted for Buffalo if I thought it was the best city," Smythe countered. "But it lacks the population and potential of the cities we picked."

There was a more important reason for Smythe's negative vote as he explained. "Buffalo is only 20 miles from us across the lake. We might as well have another franchise in Toronto - it wouldn't have intruded on our TV any more than Buffalo."

The conditions for admittance included for each newcomer $2,000,000 and a satisfactory building with a minimum of 12,500 seats.

The entrance fees , $12,000,000 in sum, will be split amongst the existing six teams in exchange for players. A formula for stocking the new teams has not been defined, but will probably allow the newcomers to draft talent from the present clubs after a certain number of established stars have been protected.

"The new teams will play in their own division," NHL president Clarence Campbell said. "For the first few years they'll compete against each other at their own level. There will be inter-divisional play but it still hasn't been decided which of the new cities will challenge in the beginning for the Stanley Cup."

Expansion is plotted on a 74-game schedule - 10 games against each opponent in the new division, 4 against each of the six older clubs. The governors accepted partners with their own bent towards autocracy, men powerful enough to make decisions without reference to boards of directors.

Molson said , "We also leaned towards anybody who promised to build his own store."

New arenas were promised by Jack Kent Cooke in Los Angeles and Bill Putnam in Philadelphia, by Gordon Ritz in Minneapolis-St.Paul and George Flehatry in San Francisco-Oakland. The Pittsburgh plant needs to be enlarged and whoever buys the ancient St.Louis garage better be equipped with a paint brush.

Cooke was jubilant, as befits a contender who outfoxed four syndicates for possession of lucrative Los Angeles.

"Happiest day I've ever known!" announced the bouncy Toronto expatriate. "I haven't slept for 24 hours from sheer excitement."

Sheer exhaustion appears to be Cooke's normal aim: when he felt there was a chance his bid would be accepted several weeks ago, he flew to each of the NHL cities for a vigorous audience with the respective governors.

He dazzled everybody with flamboyance and footwork. "I plan to build an arena for $7,000,000 in LA and it will be for hockey first, not basketball."

Cooke owns Los Angeles Lakers of the National Basketball Association and before deserting Canada presided over the Toronto Baseball Club. His hockey background however, will never gain him election to the Hall of Fame as a player.

Smythe was predictably snarky about his new partner. "I think Cooke played one year of hockey, and that was at Malvern Collegiate."

Three-buttoned Ivy Leaguers and elbowing aspirants from the National Football League dominated the other successful bids.

Barry Von Gerbig, caretaker of Bing Crosby's financial interests in New York, formerly guarded goal for Princeton. He joined Fleharty in soliciting a franchise for San Francisco-Oakland, promising to base the team in a sports complex under construction in Oakland. Fleharty is prominent in Shasta Corp., which controls Ice Follies.

Jack McGregor, a 31 year old Pennsylvania state senator with the fresh look of a Junior A hockey player is the principal in Pittsburgh. He is supported by Art Rooney, president of the Pittsburgh Steelers, and Russ Byers, grandson of Andrew Mellon, a financier.

McGregor pledged to have Pittsburgh's Civic Arena enlarged from 11,500 seats to 12,800, barely beyond the NHL's minimum seating demands.

McGregor was asked how much influence Jim Norris used to preserve St.Louis for an anonymous party, and retreated in mock horror. "You aren't going to get me talking about Mr.Norris," he said. "I'm up for re-election next year."

Bill Putnam, recently a vice-president of Morgan Guaranty Trust in New York led Philadelphia's surprisingly successful overture. His associates include Jerry Wolman, president of Philadelphia Eagles and Jerome Schiff, a building contractor, all of them under 40.

Putnam's pitch promised construction of a privately owned arena to replace Philadelphia's presently cramped dilapidated rink. The governors also turned a benign gaze on the city's lush potential: 6,500,000 in the Delaware Valley, fourth largest television market on the continent.

Wolman purchased the Eagles two years ago for $5,505,500 after securing a fortune from the construction game. He estimates is net worth at $38,000,000, a figure he expresses with some pride.

"My father was a fruit dealer," Wolman says. "He didn't have any money, so I started borrowing in 1947 and began building subdivisions. I almost went broke before the post war boom made me rich."

Gordon Ritz, who played center ice at Yale, was the commanding voice in Minnesota's presentation. Walter Bush, an attorney, and Bob Ridder, proprietor of a TV station are others in the eight-man combine. Ritz promised construction of an arena of NHL specifications, probably adjacent to the football and baseball stadium at Bloomington, Minn.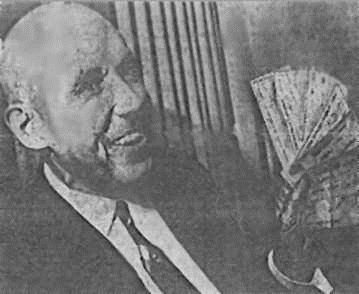 Birth of the Flyers - NHL President Clarence Campbell holds up six $2,000,000 cheques, admitting six new teams into the NHL
Strong Financial Aid


February 10, 1966

PHILADELPHIA (UPI) - Mayor James H.J.Tate said yesterday a Philadelphia entry in the National Hockey League would have strong financial support and be one of the best teams in the circuit.

Ed Snider, treasurer of the Philadelphia Eagles, whose owner, Jerry Wolman, has an interest in the hockey enterprise, said a new arena would be built in the area of the city's proposed sports stadium.

Snider said at a new conference the arena would seat 15,000 to 18,000 and cost $6 million to $10 million. The facility would share a 10,000-car parking lot with the proposed stadium he said.

Jerry Schiff, part owner of the new entry said the arena would be completed by October 1967.

Snider said that neither he nor Wolman would participate actively in management of the club, which will be headed by William Putnam, former vice president of Mogan Guaranty Trust Co., New York.

The last hockey team in this city was Philadelphia Ramblers, an Eastern League entry that folded in the 1963-64 season. It was later reorganized into the Jersey Devils, who play in Cherry Hill, N.J.
---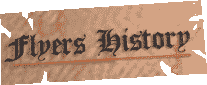 Copyright 1998-2008 - P.Anson