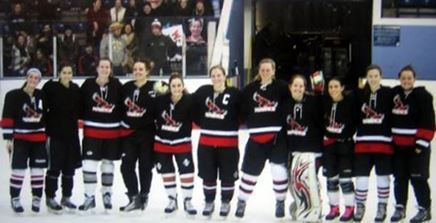 Delaware Valley Collegiate Hockey Conference PHILADELPHIA'S JESUIT UNIVERSITY
Left to Right: Sydney Flemister (A) – Junior, Erin Dougherty- Freshman, Dani Bouchard- Sophomore, Rachel Swenarton- Junior, Kelly Monahan- Senior, Kathleen Marinzulich (C) – Senior, Jill Federoff – Senior, Sinéad Merriman- Sophomore, Chrissy Small- Junior, Brooke Goulden- Sophomore, Jess Pareja- Sophomore.

The Women's Club Ice Hockey team is in its 4th year as a club sport for the 2013-2014 season.
As a part of the DII division of the Delaware Valley Collegiate Hockey Conference (DVCHC) the team offers a competitive and exciting season.
We hold 1-2 practices weekly and have 10-12 games per season (as well as the possibility of playoffs). It was founded by a very dedicated SJU student, Therese Dallegro '13, her freshman year. Her heart and soul was put into starting this club team for those who have either had experience with ice hockey in the past or would like to get a feel for the game.
The team welcomes anyone who is interested in trying something new and we look forward to growing every season in strength and numbers. The team is led by coaches who know how to balance hard work and having a good time on the ice.
Overall, its a nice way to escape campus life and join a great group of girls for an extra curricular activity. Hit the ice for our next season and see what the team is all about! Go Hawks!! For more information contact the club president: km584265@sju.edu